Welcome! Please come and explore the rich spiritual and community life of South Church
Our Unitarian Universalist community offers an open search for spiritual fulfillment, meaning, and belonging. Thought-provoking worship, social justice, environmental activism, arts, music and a warm welcome are just some of what you'll find at South Church. Come in and explore! - Revs. Lauren & Chris
Sunday Service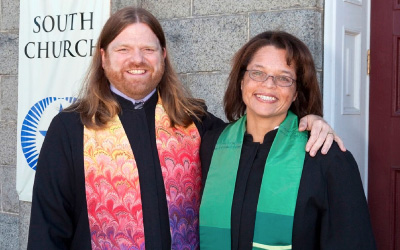 September to May, 9:00am & 11:00am
June to August, 10:00am
We're located in downtown Portsmouth at 292 State Street. Read more about getting here
Senior Youth Clothing Drive

Our Senior Youth are collecting food, coats, and blankets for H.O.M.E. Collection bins are located in the social hall, and collections will be accepted from now through November 2oth, when our youth head up to Orland, ME to volunteer at the H.O.M.E site. 
Capital Campaign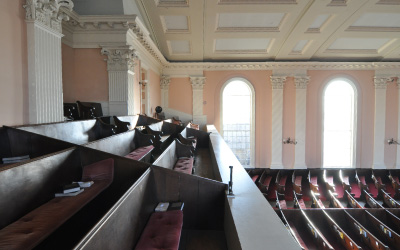 150 members and friends attended the South Church Capital Campaign; This is the Moment – Our Faith Ignites Our Generosity,Kick-Off event dinner held Sunday evening, November 1st at Temple Israel in Portsmouth. Read more
Explore more about South Church
Weddings and Rentals at South Church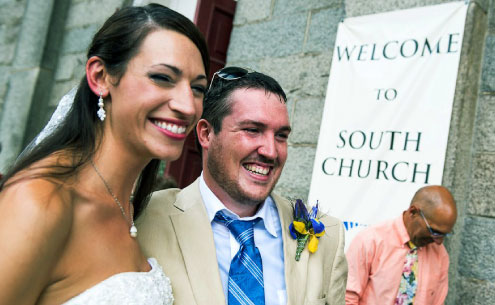 Are you looking for a unique and historic location for your upcoming wedding, meeting or live performance?  Located in beautiful downtown Portsmouth, South Church is one of the seacoast area's premier rental facilities.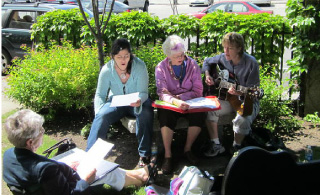 Our Mission
At South Church, we nurture spiritual growth through worship, learning and community; we celebrate the worth and dignity of all people; and we inspire one another to act on our faith in the larger community.